Keeper / NoV holder: MIKE BUNDY [G4WVD]
Band: 2M (RV58))
Output frequency: 145.7250 MHz
Receive Frequency: 145.1250 MHz
CTCSS tone: 77 Hz.
GB3NC Service area covers most of Mid Cornwall from our Hensbarrow location.
The Yaesu DR-1X 2 metre repeater GB3NC is currently configured for FM analogue voice only and may be accessed with a CTCSS tone of 77 Hz or a 1750 Hz tone burst.
A few seconds of voice will latch GB3NC but do allow the 2nd "T" to permit possible Echolink traffic before resuming the QSO. The repeater Input is on 145.125 Mhz and the output is on 145.725 Mhz.
The repeater uses a radio infrastructure FVC6 co-linear with a gain of 6dB. The antenna is fixed atop our 100' (33m) mast which is at 1000' (300m) ASL on Hensbarrow Downs. GB3NC runs at about 10 watts with an ERP of about 25 watts.
Echolink is available, hosted by Roger Gregory G4OCO and the node number is 282184. It is recommended that stations wait for the second Pip to allow echolink to respond and others to break in on a QSO.
GB3NC is our primary repeater for mobiles around the county of Cornwall - we believe that Mobiles should be granted priority over fixed stations.
We host the RSGB news on Sunday morning at 09:30 hours with a roundup for reports afterwards.
The MCBARG maintain the equipment and the repeater keeper NoV holder is Mike Bundy G4WVD.
Keeper/NoV holder: MIKE BUNDY [G4WVD]
Band: 70CM (Rb15))
Output frequency: 433.3750 MHz
Receive Frequency: 434.9750 MHz
This is a multi-mode DIGITAL VOICE repeater. This repeater also has ANALOGUE VOICE capability [CTCSS tone is 77 Hz]
This Digital Repeater has C4FM/FUSION capability.
GB3HB is a Dual Mode repeater with access for either C4FM or F3E but not cross mode.
C4FM has no end of over ident, F3E uses the G8CUL logic access with 1750hz tone burst or 77hz sub tone, the repeater idents only on F3E for end of over and beacons at 15 minute intervals.The repeater encodes the TX, F3E users should use full CTCSS to mute the C4FM digital signal, the repeater has a 5 minute timeout.
The repeater input is on 434.9750 Mhz and the output is on 433.3750 Mhz. The repeater uses a Diamond X200 antenna with a gain of 6dB. The antenna is fixed near the top of our 100' mast which is 1000' ASL on Hensbarrow Downs in the St Austell Clay district.
GB3HB runs about 5 watts with an ERP of about 12 watts. The MCBARG maintain the equipment and the repeater keeper NoV holder is Mike Bundy G4WVD.
The ATV Repeater NoV Holder is Kevin Francks M0BFB.
Stations transmit digital pictures on 2m, 70cm and 2m and receive television pictures using the 23cm band.
Stations using GB3NQ may use relatively cheap 23cm transmitters and receivers using one of the Portsdown or Minitioune/Ryde projects available from the BATC (British Amateur Television Club) or suitable DVBS-2 satellite set top boxes -check suitability before purchase. https://batc.org.uk/
The input frequency is 146.5 Mhz, 437Mhz and 1249 MHz and the output 1316 MHz with a symbol rate of 1500 and an FEC 3/4 DVBS-2. Although GB3NQ has audio through, stations often use talkback on the 2 metre frequency of 144.750 MHz or via GB3NC repeater on 145.725Mhz.
The new digital repeater electronics were constructed by Paul G6MNJ using British Amateur Television Clubs Portsdown transmitter and 3 Ryde receivers all based around a Raspberry Pi 4.
A 150 watt power amplifier is driven by a 18 watt pre amplifier, both run considerably under power to remain linear - a must for digital ATV.
GB3NQ runs in Beacon mode between Mid day and 9Pm when it plays out a video for 30 minutes. When running between 10am and 10pm it may be accessed at any time with a s valid digital television signal on 2m, 70cm or 23cm.This would be a symbol rate of 333Ksymbols/s on 2m or on 70cm and 23cm symbol rates of 333, 1000 or 2000 Ks/s.
The repeater transmits on 1316MHz 1500Ks/s FEC 3/4 DVBS-2.
GB3NQ was originally constructed by two local amateurs. Maurice G3WKF and John G0VDU. Maurice, a mechanical engineer, made the high quality filters for the input and output of the repeater and also the 4 faced lantern antennas required for the transmitter and receiver which are still in use today.
GB3NQ can be live streamed by using the link below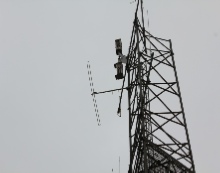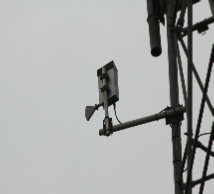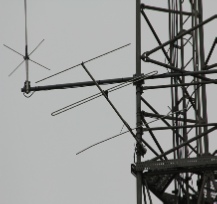 The Mid Cornwall Beacon and Repeater group host six beacons at our Hensbarrow Downs transmitter site. The locator is IO 70 OJ and the bearings are all to the North East from our far SW location. The beacons operate around the clock all year round. They are a significant cost to us. Our Beacon keeper is Nick Camp G7KFQ who is always pleased to receive reports.
Our 2 mtre beacon is unique in that it has two antennas. One to the North East and the other to the South for French, Spanish and further afield contacts.
2 metre beacon above the 6 metre beacon